Al Gore was on 60 Minutes last night and I was struck with how successful he is in the role of Public Relations.
(Please note: This is not a political blog. I am not commenting on presidential politics or on the politics of global warming. This is commentary on Gore as a communicator.)

PR and marketing professionals should look to Gore as an important case study on how to do things right. Here are my top-of-mind thoughts:
1. Al Gore has successful communicated a powerful idea, that "Global Warming is the greatest challenge facing our time." He doesn't talk about his products -- books and movie -- instead he communicates powerful ideas. He knows exactly what he wants his buyer personas to believe.
2. Gore pays attention to buyer personas and he tailors his presentations accordingly. For example, when he talks to evangelical Christians, he includes passages from the Bible.
3. Gore is persistent, building his ideas over time. When he first started talking about Global Warming years ago, very few people were interested. He kept at it, speaking to hundreds of groups and building the buzz.
4. Gore understands how to use the media to help deliver his information. In practically every interview I've seen with him, Gore talks about climate change. To use an old PR term, he is "on message." Even when reporters draw him into other discussions, like who he supports for President, he brings the conversation back to what is important to him.
5. Gore understands how to use the Web. He has an attractive, content rich Web site and he is a blogger.
6. He is the undisputed thought leader when it comes to climate change and he delivers his ideas through various media including online, print (his book An Inconvenient Truth: The Planetary Emergency of Global Warming and What We can do about it), and video (the documentary An Inconvenient Truth.)
7. He knows how to deliver compelling live presentations.
8. Gore understands global communications. An Inconvenient Truth been translated into 27 languages, and he delivers speeches all over the planet.
9. Like many successful PR pros, Gore knows that sometimes advertising is important in an overall communications campaign. He is using the profits from his books and documentary as well has his Nobel prize award to kick off a $300 million advertising campaign to raise awareness about climate change. (You should start seeing TV ads soon.)
10. Awards programs, another PR tool, are part of his work. You can't do much better than an Oscar and a Nobel. (An Inconvenient Truth won an Academy Award for best documentary feature in 2006, and Gore was awarded the 2007 Nobel Peace Prize (together with the Intergovernmental Panel on Climate Change) for the "efforts to build up and disseminate greater knowledge about man-made climate change, and to lay the foundations for the measures that are needed to counteract such change." And when he wins an award. Gore talks again about his powerful idea because he know the world's media is paying attention.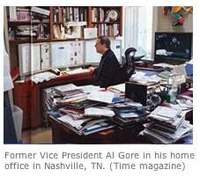 Al Gore, PR Agent for Planet Earth.
PR and Marketing pros can learn from his work. I certainly have.