"I choose Mug root beer from the big white fridge with the pull handle because that's what I would have grabbed in my own rec room. The mismatched furniture and leftover paint that colors the walls are just what we had at home. As a place to stimulate ideas and build new friendships it's great to finally get out of those damn hotel conference rooms and instead meet in a place that reeks of Pink Floyd and making out with Nicole in the corner. As I first sip my Mug, I swear cheap incense burned thirty years earlier still lingers. A flashback, perhaps."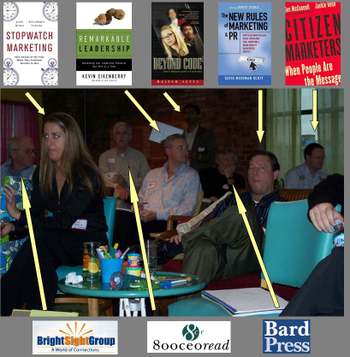 I've attended more than 50 conferences in 2007 where I was invited as a speaker and this week, I finally attended one for me. As an attendee! The terrific business book author Pow Wow, expertly sponsored by 1-800-CEO-READ (8CR), brought together 21 business book authors, and industry luminaries including publishers, publicists, designers, speaker's agents, and more.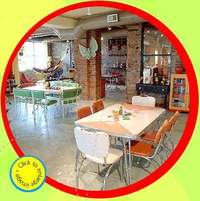 There were dozens of bestsellers represented and millions of books sold. It was so terrific to meet and share ideas about writing, marketing, and selling books. And with this group of extremely successful entrepreneurs we all picked each others' brains on the business of speaking and writing as a career. I learned a great deal (hey 8CR – sign me up for next year!)
The paragraph above was the result of a writing assignment – we had about ten minutes to write a few sentences that describe the funky Catalyst Ranch room we were hanging out in.
Here are the authors who attended:
Erika Andersen Growing Great Employees
Greg Alexander Sales Benchmarking
Kevin Eikenberry Remarkable Leadership
Phil Gerbyshak 10 Ways to Make it Great
Joanne Gordon Be Happy at Work
Jackie Huba Church of the Customer
Joe Heuer Business Daffynitions
Mike Kanazawa Big Ideas to Big Results
Alexander Kjerulf Happy Hour is 9 to 5
Steve Little The Milkshake Moment
Ben McConnell Citizen Marketers
Robert Mintz The World According To You
Jack Mitchell Hug Your Customers
Susan Quandt Sudden Impact on the Job
Michael Stallard Fired Up or Burned Out
Dan Roam The Back of the Napkin
John Rosen Stopwatch Marketing
Rajesh Setty Life Beyond Code
AnnaMaria Turano Stopwatch Marketing
Bill Welter The Prepared Mind of a Leader
Here are the people who work in the business book publishing world who shared ideas with us:
Ray Bard - Bard Press
Mark Bloomfield - Harvard Business School Press
Shelley Dolley - Leap7
Barbara Cave Henricks - Cave Henricks Communications
Mark Fortier - Fortier Public Relations
Gerry Sindell - ThoughtLeaders Intl
Les Tuerk - BrightSight Group
Dennis Welch - Cave Henricks Communications
Susan Williams - Jossey-Bass
Thank you to Jack, Todd, Sally, Kate, Dylan, and Aaron from 8CR for putting on this great event.