This morning, I was poking around for ideas for my column in EContent Magazine. I decided to visit the Microsoft online media room so I went to Google and typed in "microsoft press." Entering a company name and the word "press" almost always works to get me to a company's press page in one click. I ended up with a bunch of hits for the Microsoft publishing business called "Microsoft Press." Back to Google and the search term "microsoft media" and a bunch of hits on "Microsoft Windows Media," so I gave up on using Google and just went to the Microsoft home page.
HOLY COW. Microsoft has a new home page!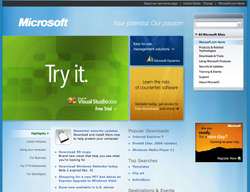 Dominating the thing was a HUGE ad for Microsoft Visual Studio 2005. Weird. I wonder why that's so important?
I did not see a link on the home page for the company's online media room. But there were no less than 15 links by Microsoft product name on the homepage! What a bunch of egotistical nonsense. Do Microsoft customers all know the names of their products and only go to the site with product names in mind? Anyway, there were sales related links for developers, businesses and the like, but nothing at all for journalists.
In frustration, I clicked the button About our new home page. Nothing there for the media, although I learned a bunch of stuff about the site redesign: "On December 14 we introduced a new home page for Microsoft.com. The new page incorporates months of research, testing, customer feedback, and refinements. We hope the new page makes it easier to find what you're looking for on Microsoft.com, and that you find new items of interest along the way." I wonder if they tested the redesign with members of the media. Easier to find? I don't think so. At least not the press pages.
Next I clicked Quick Links which led me to a site map. My eye went to the "About Microsoft" section looking for the press pages. NOTHING.
I'm now something like twenty clicks and several minutes into this hide and seek game and I'm seriously wondering if Microsoft forgot about the press section in the site redesign.
So next I clicked "corporate information" on the site map. I see a bunch of stuff on corporate citizenship, legal, and other stuff and then WOW THERE IT IS– over on the left navigation at the bottom of the list is a link - For Journalists. SUCCESS. Yay.
Attention Microsoft. This redesign may work for other constituents, but you really shouldn't make journalists jump through hoops to find the pages we need.